Press Releases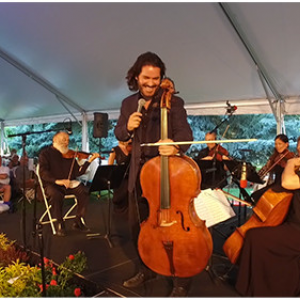 2019 Northwest BachFest features J.S. Bach's monumental music
Kicks off with Well-Tempered Clavier March 3 at St. John's Cathedral
Zuill Bailey, Artistic Director
---
February,2019
SPOKANE – Week One of Northwest BachFest 2019 showcases monumental works of J.S. Bach with exciting and innovative performances in Spokane and Coeur d'Alene March 3-10. Tickets are at www.nwbachfest.com/calendar. Tickets also available by telephone with 24/7 answering, 800-838-3006.
Week Two of 2019 Northwest BachFest, May 25-29, will celebrate the timeless music of Scott Joplin with Richard Dowling, piano, performing his program, Great Scott. In addition, an Evening with Zuill Bailey, cello, and Richard Dowling, piano will be featured. Concert dates, venues and details soon be announced at www.nwbachfest.com.
The festival begins on Sunday, March 3 at 3 pm at St. John's Cathedral with the distinguished Russian-American pianist Yuliya Gorenman presenting a Bach Extravaganza, a rare complete performance of J.S. Bach's Well-Tempered Clavier, Book I. Gorenman's acclaimed Bach Project gives audiences an extraordinary opportunity to experience a complete performance of this timeless Bach masterpiece, rarely heard in one performance.
Award-winning Russian-born American pianist Gorenman has rightfully been called a "pianist without fear." Now firmly established in her performing career, Gorenman first achieved international acclaim as a prizewinner of the prestigious Queen Elisabeth Competition in Belgium in 1995. Since then she has been invited to perform solo, chamber, and orchestral concerts throughout the United States and in Europe, and, in the process, has earned consistent praise for her artistic fire, for her fluid and unpretentious technique, and for the lyrical honesty and generosity of her playing. After immigrating to the United States in 1987, she studied first at the San Francisco Conservatory and then at the Peabody Conservatory.
After leaving the former Soviet Union, Gorenman earned a steady procession of awards and honors. She performed in numerous television and radio broadcasts throughout Europe, Russia, the Middle East, Canada, and the United States. As a fellow at the Tanglewood Festival she appeared in a PBS educational video for Sony Classical with Seiji Ozawa and Wynton Marsalis. Also at Tanglewood, Gorenman gave a joint concert with Billy Joel, performing his classical concert works, which she also arranged. The concert was broadcast nationally on NPR.
Gorenman is an Advisor to the Board of Governors of the Washington, D.C. chapter of the Recording Academy (GRAMMY). She is professor of piano and Musician in Residence at the American University in Washington, DC.

Opening BachFest Concert: Sunday, March 3 at 3pm - Yuliya Gorenman's Bach Extravaganza
St. John's Cathedral, 127 E. 12th Ave. at Grand Blvd. in Spokane
General Admission $35/Students $15
https://www.brownpapertickets.com/event/3619812
BachFest Concerts continue on Tuesday, March 5 at 7 pm at the Coeur d'Alene Resort Hotel, 115 S. 2nd St. in Coeur d'Alene when Yuliya Gorenman presents the first of two performances of her arrangement for one piano of Rimsky-Korsakov's Scheherazade. It is an exhilarating, fairy tale journey with stories woven by the master storyteller, Scheherazade, guided by the master pianist Yuliya Gorenman!
When Gorenman presented this program recently for El Paso Pro Musica where Zuill Bailey is also artistic director, the El Paso Times wrote: "The highlight of the performance was Yuliya Gorenman's brilliant arrangement for one piano of Rimski-Korsakov's "Scheherazade." Her amazing dexterity, astounding technique, and emotional grasp of the music evoked every exotic nuance of the piece composed for grand symphony orchestra. Standing ovations from an appreciative audience clamored for her poignant encores. Bravo to Bailey for bringing an unequaled musical experience to El Paso."
Yuliya Gorenman's Scheherazade in Coeur d'Alene
Coeur d'Alene Resort Hotel, 115 S. 2nd St. in Coeur d'Alene, Idaho
General Admission $35/Students $15
https://www.brownpapertickets.com/event/3620530
The second performance of Gorenman's Scheherazade will be presented on
Wednesday, March 6 at 7 pm at Barrister Winery
Yuliya Gorenman's Scheherazade at Barrister Winery
Barrister Winery, 1213 W. Railroad Ave. in Spokane
General Admission $35/Students $15
https://www.brownpapertickets.com/event/3619841

On Thursday, March 7 at 7pm BachFest returns to the Hagadone Event Center in Coeur d'Alene for The B-A-C-H Prism when the Richter String Ensemble will present the first of two performances of J.S. Bach's final and enduring work, Art Of The Fugue, with brief musical wavelengths bouncing from Bach's light by composers Berio, Dutilleux and Penderecki interspersed into the Bach masterpiece.
B-A-C-H Prism – Art of the Fugue in Coeur d'Alene
Hagadone Event Center, 908 Floating Green Drive in Coeur d'Alene, Idaho
General Admission $35/Students $15
https://www.brownpapertickets.com/event/3620543

Art of The Fugue, which Bach was working on towards the end of his life and never completed has 15 canons and four fugues, all based on a single musical idea, and are a reflection of meticulous craftsmanship and brilliant technique in counterpoint. The B-A-C-H Prism program is interspersed with short wavelengths of light by 20th-century composers, which bounce from the light cast by Bach in his final and enduring work, one of combined simplicity and complexity.
The Richter String Ensemble is a new chamber music initiative founded by internationally renowned violinist and director Rodolfo Richter. Primarily a string quartet, the ensemble took root in 2015 on tour in Berlin with the baroque orchestra B'Rock and includes musicians from three continents. The Richter Ensemble includes its founder Rodolfo Richter, UK, violin; Rebecca Huber (The Netherlands), violin; Julia Kuhn, Germany, viola; and Jennifer Morsches, USA, cello.
The second performance of The B-A-C-H Prism will be presented by the Richter String Ensemble on Friday, March 8 at 7pm at Barrister Winery in Spokane.
B-A-C-H Prism – Art of the Fugue at Barrister Winery
Barrister Winery, 1213 W. Railroad Ave. in Spokane
General Admission $35/Students $15
https://www.brownpapertickets.com/event/3622883
A free Bach's Lunch concert will take place at Noon at River Park Square's Kress Gallery (Third Floor/Behind the Food Court), 808 W. Main Ave. on Thursday, March 7 when pianist Yuliya Gorenman will present highlights from BachFest concerts and more. The program, about one hour in length, will be announced at the concerts. Listeners are invited to bring their lunches to the concert or choose something at the nearby food court. The gallery will be set with tables and chairs to facilitate having lunch during the program. Bach's Lunch performances are popular with all ages. Free event.
Other free events of Northwest BachFest includes a Flash-Bach! performance at Noon on Friday, March 8 with Zuill Bailey and guest artists at a downtown Spokane venue. The Flash-Bach! location will be announced at 8am the morning of performance by the Northwest BachFest email newsletter and on the Northwest Bach Festival Facebook page. In addition, the location will be announced by Spokane Public Radio and online print media.
Special Finale Event of the 2019 Northwest BachFest
Fundraising Dinner and Auction to celebrate the conclusion of Bach '19 – The fourth annual BachFest Finale Celebration on Sunday, March 10 at 5:30 pm at Barrister Winery will close BachFest '19 Week One with dinner by the acclaimed Fery's Catering and award-winning no-host Barrister wines. A brief performance by Triple-Grammy winning Artistic Director Zuill Bailey with pianist Greg Presley will open the Celebration event. Ten exclusive-to-this-event loud auction items will go to the highest bidder guided by emcee Ted McGregor and auctioneer Jeff Owens, including a festive Pig Roast and Dinner hosted in a private home; a beautiful painting by renowned Spokane artist, the late Harold Balazs, donated by William and Marcia Bond; an Italian Dinner for 12 people by Gina Lanza, former owner of Amore and the Anaconda Grill; an autumn afternoon with famous artists Gina Freuen, Louise Kodias, and Kay O'Rourke with wine and hors d'oeuvres hosted in an art-collector's home; a reserved table for eight at Mozart On A Summer's Eve with a magnum of wine by Barrister Winery; a complimentary private tasting appointment for four people at the exclusive Long Shadows Vintners in Walla Walla with overnight lodging for two nights at Courtyard by Marriott in Walla Walla; and more! In addition, 20 top-quality, unique, primarily culinary-themed silent auction items and a Cork Pull that includes several high-end wines from the famous cellar of William Bond, and other delights are planned. Seating is limited.
Celebration tickets are available in advance only at Brown Paper Tickets or by telephone, CALL 800-838-3006.
Tickets $60 - Admission includes dinner and the Zuill Bailey/Greg Presley performance. No-host Barrister wines available.
https://www.brownpapertickets.com/event/3781062
A complete table for eight people at the Celebration event can be reserved for $400 directly through Connoisseur Concerts at 509.326.4942 (only a few of these are available).
Student Ticket Underwriter and BachFest Concert Tickets:
Spokane City Credit Union underwrites reduced- price Student Tickets for BachFest Classics concerts. Student and Adult single tickets for these concerts are available to purchase in person at the Spokane City Credit Union, 1930 N. Monroe St. in Spokane (Open Mon-Fri 9am-5pm except for banking holidays) with no service fee. Tickets at SCCU are available for cash or checks but no credit/debit card charges. The Student tickets are also available online or by phone (800-838-3006) at Brown Paper Tickets. Tickets are easily accessed online at the links that follow each concert description.

Tickets at www.brownpapertickets.com or 800-838-3006
---
For additional information about Northwest Bach Festival & Series, call Connoisseur Concerts at 509-326-4942.
For information or to arrange an interview: gertrude@nwbachfest.com.
View the calendar for schedule information.