Plan Your Visit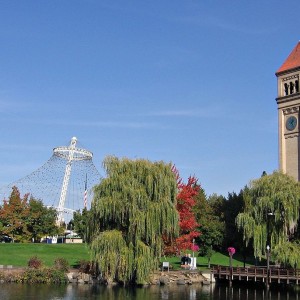 There's plenty to see and do while you're in Spokane
While you are planning your trip to Spokane for the Northwest BachFest, here are some things you should consider.
Barrister Winery
Barrister Winery is an award-winning winery and an art gallery venue, featuring a curated selection of local inland northwest artists, rotating monthly. First Friday and Wednesdays at the Winery events feature the musical talents of many local inland northwest artists. These events are free to the public. Barrister Winery is home to many Northwest BachFest performances.
Cork District
Spokane's Cork District is focused in the urban core of downtown Spokane and features 15 award-winning wineries within walking distance of one other. The District also features two additional wine tasting clusters. A short drive to the northeast is the Mount Spokane Cluster and east of downtown, the Spokane Valley Cluster, both featuring award-winning wineries.
Historic Davenport Hotel
Forbes Magazine says Spokane's Historic Davenport Hotel is "Washington's grandest hotel. Whether it's the soaring architecture, award-winning amenities, rich history, or simply its proximity to nearby Spokane attractions, The Historic Davenport Hotel has welcomed film stars, explorers, writers, politicians and other luminaries for more than 100 years." Northwest BachFest's "Postcards from Spokane" musical vignettes are filmed in the hotel's iconic ballrooms.
Northwest Museum of Arts and Culture
The Northwest Museum of Arts and Culture is the largest cultural organization in the Inland Northwest with five underground galleries, café, store, education center, community room and the Center for Plateau Cultural Studies. The MAC campus also includes the historic 1898 Campbell House, library and archives, an auditorium and outdoor amphitheater. The exhibits and programs focus on three major disciplines: American Indian and other cultures, regional history and visual art.
Cathedral of St. John the Evangelist
St. John's Cathedral is one of the few examples in the United States of classic Gothic architecture with beautiful stained glass windows. The Cathedral was begun in 1925. Besides regular church services it hosts many local performances, including some by Northwest BachFest. The Cathedral is open weekdays 9am-4pm and after services on Sundays.
Riverfront Park
Riverfront Park is considered one of the most scenic urban parks in the nation. With over 100 acres to explore, much of it located on an island, you can discover the magnificent Spokane Falls and River, the Expo '74 U.S. Pavilion, 1902 Clock Tower, 1909 Looff Carrousel, multiple sculptures, Centennial Trail, and inviting conservation areas. There is something to discover around every corner – Skyride, Red Wagon, Garbage Goat, Rotary Fountain and more.
River Park Square

River Park Square is Spokane's premier destination for shopping, dining, and entertainment in one central downtown location. It features Nordstrom, Apple, Urban Outfitters, Banana Republic and other major national as well as local retailers and AMC Theaters. Northwest BachFest offers free concerts in its Kress Gallery on the third floor as well as in the main floor Atrium.


Manito Park and Botanical Gardens
Manito Park is a public park located in beautiful Spokane's South Hill neighborhood. The 90-acre park includes spacious manicured lawns, playgrounds, walking and biking paths, flowers, topiary shrubs, a greenhouse conservatory and multiple picturesque gardens. It has been the location of Northwest BachFest's popular Mozart on a Summer's Eve concerts for many years.