Festival Reviews
---

Chip Phillips' clarinet lights up two very different Northwest Bachfest performances
By Larry Lapidus for The Spokesman-Review
---
February 27, 2023
The great themes of human suffering and the struggle to escape it through religious or political means have inspired many composers to write works that call for massive performance forces, including augmented orchestras, vocal and instrumental soloists and choruses. One thinks, for example, of the requiems of Verdi and Berlioz, Beethoven's ninth symphony and Missa Solemnis.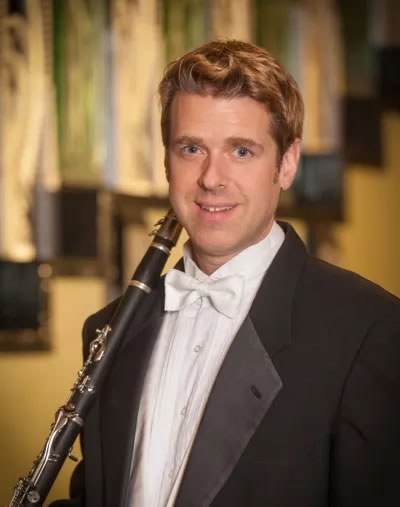 Those same themes played a great part in Saturday's presentation by the Northwest Bachfest at Barrister Winery, explored not by the vast forces of Berlioz and Mahler, but by only four musicians: Maria Asteriadou, piano; Kurt Nikkanen, violin; Chip Phillips, clarinet; and Zuill Bailey, cello.
On Saturday night, and again on Sunday, audience members who regularly attend performances of the Spokane Symphony were able to satisfy their long-held wish to see and hear Phillips, who is principal clarinet of the orchestra and whose playing illuminates every passage he is given to play, no matter how brief.
Bailey, the Bachfest's artistic director, brought in husband and wife Nikkanen and Asteriadou from New York for these concerts. While Nikkanen has appeared several times in Spokane, Asteriadou was making her first appearance here, but hopefully not her last. She seems incapable of playing a routine or unconsidered phrase, and displays a flawless technique that allows her to produce wave upon wave of exquisite tone without a hint of fatigue.
Both programs contained masterpieces by celebrated composers, but their impact on both performers and audience could not have been more different.
The first program was comprised of two powerful works: the "Quartet for the End of Time" (1941) by French composer Olivier Messiaen (1908-92), and the Piano Trio No. 2 in E-flat Op. 67 (1944) by Soviet composer Dmitri Shostakovich (1906-75). Both composers worked outside, and often against the mainstream tradition of Austro-German classical music, and produced these works under extremely stressful conditions. By contrast, the composers featured Sunday – J.S. Bach, Franz Schubert and Johannes Brahms – define the Austro-German tradition as we trace it from the 17th through the 19th centuries.
Messiaen's quartet is scored for the unusual combination of piano, violin, cello and clarinet. He wrote it while confined in a Nazi prisoner of war camp, and the only other prisoners capable of performing for the inmates and guards played violin, cello and clarinet. A profoundly spiritual and devout Roman Catholic throughout his life, Messiaen sought escape from the horrors of the camp in the way he felt most sure of: transcendence through faith. The Book of Revelation, with its graphic depiction of torment and salvation, inspired four of the work's eight sections. The remaining sections draw on Messiaen's lifelong fascination with bird-song, which he felt was an expression of the voice of God. One of the segments derived from bird-song is "The Abyss of the Birds," a piece for solo clarinet, and very likely in the most demanding work of the entire clarinet repertoire. Having heard it performed by Phillips, it is safe to say that most members of the audience felt honored to have witnessed such an example of interpretive sensitivity and technical mastery. Phillips' total command of that magical gap that separates silence from sound, his resourcefulness in pairing each note with its appropriate color, set heads throughout the audience shaking in amazement.
This set the bar very high for Bailey and Nikkanen in the subsequent segments, "Praise to the Eternity of Jesus" and "In Praise of the Immortality of Jesus," that featured their respective instruments. Incredibly, they both cleared it, exploiting every resource of cello and violin to express the full range from Jesus' suffering to his transcendence and ascent to heaven.
The spiritual center of Shostakovich's Second Piano Trio is closer to the lower end of the spectrum between despair and hope. The composer, who was deeply schooled in the polyphonic techniques of Bach, employs those techniques in this trio to satirize the very beliefs that inspired all of Bach's work: the certain knowledge of the fundamental goodness of creation and a confident reliance on God's benevolence. By 1944, Shostakovich and his colleagues had experienced enough oppression at the hands of Stalin, and had heard enough of what was taking place beyond their border with Poland, to be persuaded of the elusiveness of hope, and to regard heroic defiance as an end in itself.
The sarcasm and parody, as well as the deep, sorrowful compassion of the Piano Trio No. 2, are familiar to anyone acquainted with Shostakovich's work, as is his unique sound-world that places heavy demands on the performers. Specifically, his use of harmonics and techniques of bowing to produce eerie, disembodied sounds, or sounds that are harsh and penetrating, goes against the training of all string players, which takes beauty of tone as a constant goal. Bailey and Nikkanen proved their ability to realize the composer's goals, and produced effects that were harrowing, founded all the while by Asteriadou's infallible playing, which enlarged the impact of the work to orchestral dimensions.
Sarcasm, parody and hallucinogenic tone-painting played no part in Sunday's program.
The tone was set by the opening piece on the program, Bach's Sonata No. 3 in E for violin and keyboard accompaniment. From the opening measures, one took pleasure from the care with which Nikkanen and Asteriadou supported one another, dovetailing phrases and minutely adjusting dynamic levels to maintain an even and unbroken line through Bach's lyrical argument.
One could plainly see the joy on the faces of the players as they blended the sonorities of their various instruments in a single lyrical line, autumnal in the Brahms and sometimes melancholy, sometimes heroic in the Schubert, fulfilling their accustomed roles as bringers of beauty and activists in support of harmony.

All content © 2023 - Spokesman-Review, The (Spokane, WA) and may not be republished without permission.